This summer has been a great time with red grouper taking the center stage.  I hope it continues into the fall then the gag grouper will move in.  Trout fishing in the bay has been fast but mostly small ones.  The bigger ones should become more active when the water cools off from the high 80's it is now. All the rain has prevented it from getting into the 90's which is a good thing.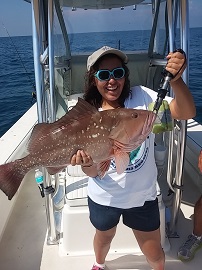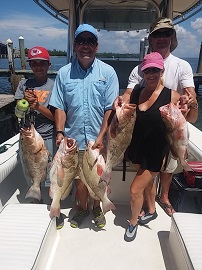 We had several weeks of west winds which didn't help the offshore fishing but it has finally turned to the east and has been beautiful the last few weeks.  Trips have slowed down this next week since school is back in but it has been a busy summer.
This time last year I was recovering from shoulder surgery and didn't get to fish till November. I am glad that is over and have tried to be careful and not reinjure it. Pulling the anchor is the worse problem but my clients have helped with that chore.
I am looking forward to fall fishing as the snook will move into the bay, the trout will get more active, the redfish will start to school and the kingfish will arrive later in the fall. I missed the October fishing last year but look forward to it this year.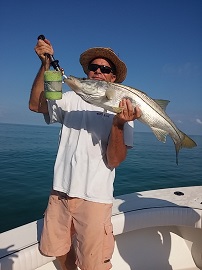 Let me know when you want to book a trip and have some fun. As you can see in the pictures below fun has started!!  Capt. Tom Sr.