Summer 2018 fishing report
The summer started off good with lots of catches of snook, trout, grouper snapper etc. ,however it has turned pretty bad as of late. The red tide has hit this area and further south real hard. The red tide is a toxic algae that kills all species of fish and sea life. We have had massive fish kills and dolphins and manatees etc. It has weakened somewhat but might come back hard as ever. Red tide is a natural occurring condition but this year it is bigger than ever due to the help from a toxic green algae from releases of water from lake Okeechobee. Our government leaders allows big sugar to continue to destroy our environment. There has been years of time wasted in allowing these discharges to take place. But its money and politics that are ruining our environment.
Governor Scott, Bill Nelson and other political leaders have turned a blind eye to big sugar. The water use to flow southward through the everglades where it was filtered and cleaned before hitting Florida bay. But they have stopped the natural flow of water and dykes have been put up around lake Okeechobee to allow big sugar to use the land south of the lake for their own good. Now the water is released into the rivers to the east and west of the lake and hits out coast lines. These releases are toxic green slime called cyanobacteria which feeds the red tides and is devastating our sea life and causing respiratory problems for people as well. All we can do is vote these politicians out and hope the next ones will do something. In the meantime we sit and watch fish die by the tons and our beaches void of vacationers due to the smell and other problems. Out counties have spent lots of dollars cleaning the beaches of dead fish and other animals.
One other problem is the runoff of lawns and golf courses where the excess nitrogen and phosphorus feed the red tide. Trumps lack of environmental regulations are really hurting all of us. When I was in the lab business back in the 80,S and 90,S regulations were in place to protect out waters but not any more. EPA and DEP do not have strong limits on theses nutrients like they use to.
So much for the gloom and doom.
The offshore fishing has been good through all this and my trips are all offshore except in tampa bay. The water in tampa bay has not been hit very hard and good fishing can be had. One of my last 2 trips was in tampa bay and we caught plenty of snook and spanish macs. Offshore the grouper and snapper bite is good and the water is clean and beautiful.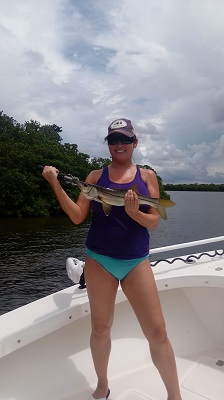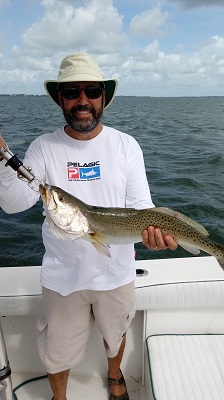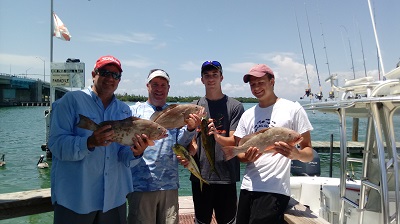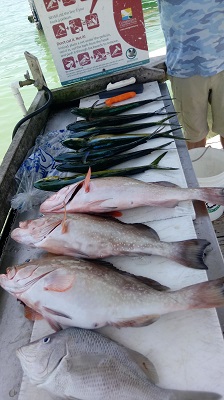 If you are planning a trip check out the conditions at myFWC.com before you come.
I guess thats about it except that as we get into our fall patterns the fishing always gets better. Cooler water is also helpful with any limgering red tide. If you live in Florida keep this in mind as you go to the polls and lets change who is running our state and federal politics. Capt. Tom sr.