Fishing this spring has been off the chart with great catches of trout, snook and now the tarpon bite has started.  We have also had some great offshore trips with kingfish, sharks, goliath grouper, amberjack and snappers.  There are just too many goliath grouper out there and they need to start opening the season to get rid of some of them. You can't catch a snapper or nice grouper from the goliath eating them. The kingfish bite was awsome this spring. We caught about 15-20 each day. They are great fun and great on the smoker!! Tammy landed this nice one and her sister Jackie and Tammys daughters Megan and Makenzie caught their share also.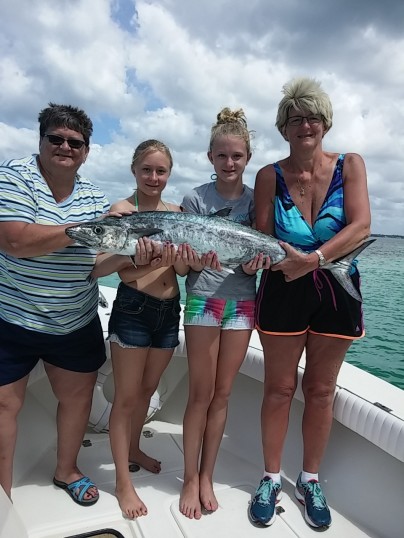 On another trip we also had some giant amberjack trying to eat a nice kingfish but we landed the king by a split second before it got eaten.
The snook bite is great with days of 40 snook not uncommon. The season is now closed so you cant keep one but you can still catch and release them. The dolphins are getting really bad trying to eat everyone you let go so we are putting them in the live well then moving away from the dolphins before releasing the snook. You have to go a good ways because the dolphin will follow you. I think they know you have them in the livewell. Randy had a great snook!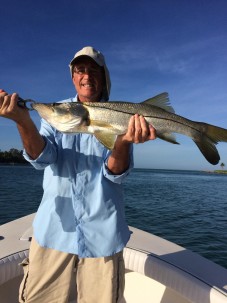 The big trout bite has also been great. Here is one caught by Daryl.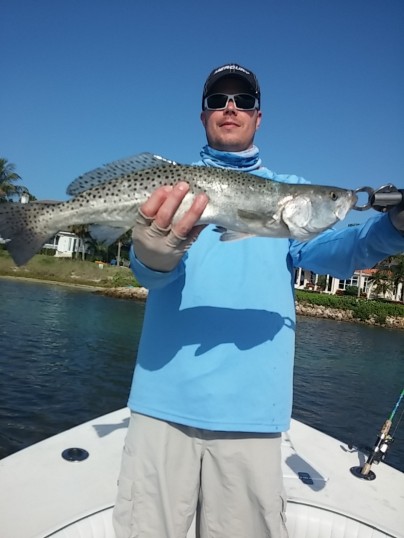 The next month will be many tarpon trips and long days on the water but it is fun watching folks catch them. Tarpon is catch and release only so we take a couple of pictures and let them go. Tarpon trips are minimum 6 hrs. We start before 6 am and fish till about 12-1 pm.  We also have to catch our crabs we use for bait the afternoon or night before which takes 3 to 4 hrs.  So in case you wonder about tarpon trip prices this is the reason. Its not easy and I tell people its like a deer or turkey hunting trip. You may not get one as they do not want to eat all the time. One captain told me he never made a cast in 6 hrs. Other times you can get 10-15 bites. Landing one is another story as most of them are in the 60-200 lb. range. The one pictured here was about 80-100 lbs.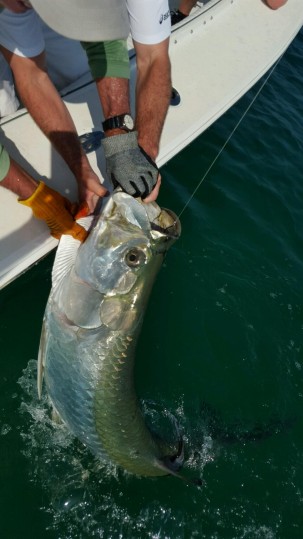 I look forward to seeing you this spring or summer so come on down and have some fun.  Capt. Tom Sr.