My past two trips have been great, and I wanted to post a few pictures of them and tell everyone what we are doing in November.
My good client Kevin from Scotland is in town on his usual November trip. Kevin likes to catch fish on the fly rod and this is something we offer on our trips. It is a much different trip, but we do have the opportunity here in Sarasota. Kevin ties his own fly patterns and we have used them on a range of different fish from snook, to little tunnys. Our recent trip was along the beach and back in the bay waters. A perfect November day with sun and low wind. We worked along the beach roughly a half mile out and noticed some birds working the top of some feeding fish. A mix of little tunnys, that we all call bonito, and some mackerel mixed in. The fly is a great option for catching these fish because the minnows that these fish are eating and very small and close to the size of the fly we use. Kevin is a good caster and he was able to catch several nice ones on his new 10 weight fly rod. These bonitos really fight hard and offer a great catch and release option for fly anglers.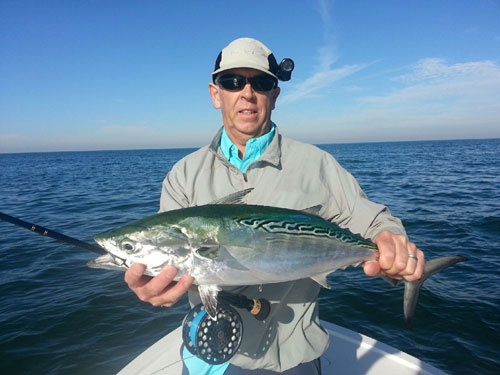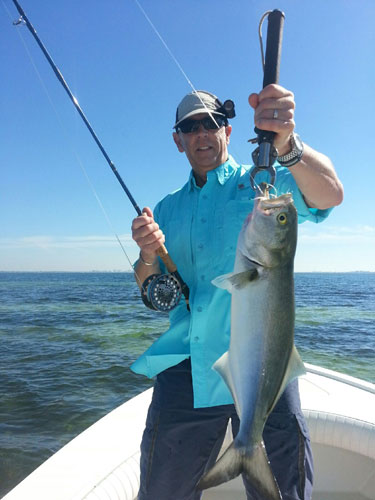 After the beach fishing, we went into longboat pass and worked our way back down the bay just looking for something to catch. The water was so nice and clear this day. We founds some nice blue fish and jacks holding on the shallow flats and were able to sight fish them and catch all we wanted. We had a blast watching the blues running up on the moving fly and taking it.
My latest trip was with my good friends Chuck and Chris and John. We had a different kind of day to work with. Cold winds and cloudy skies. We had to get creative to find some good eating fish for the guys to take home for dinner. I found some quiet areas to fish and we found some nice redfish, snook and trout willing to bite for us. We had to work around and find them, but when we did, it was on. This picture of the triple header we had turned out nice.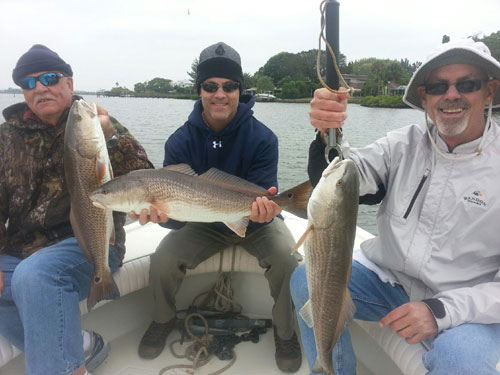 Tight Lines, Capt Tom Jr.