Fall/Winter 2016
Fishing this fall has really been good. Kingfish, grouper, spanish macs and amberjack have been the primary fish caught. The spanish showed up first and we had some days of nonstop action. One trip with 4 guys and it was a fish every bait that hit the water and they were big spanish. We also caught some nice redfish and snook during the fall. Fall is really good for most fish as they like the cooling water.
The kings followed and were in most places offshore but a few areas held a ton of them for about 3 weeks or so. We caught them like crazy on several days along with some big LT's.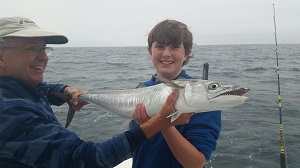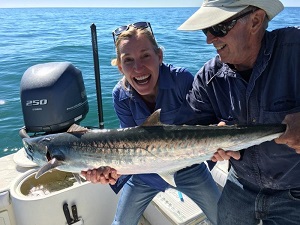 The grouper fishing offshore was also really good. Last year they came in closer to the shore about 12 miles out but this year(2016) they stayed out in about 85 ft. about 25 miles out. It was worth the run because we limited out with nice red grouper along with lane snapper.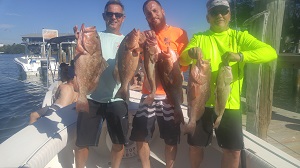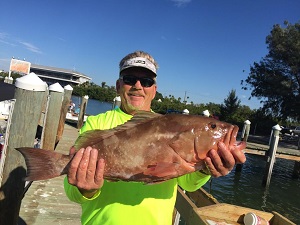 The big amberjack have been on fire recently and with clear water you can pick the one you want make a cast and hang on. These fish are so strong and its a ton of fun fighting them. They dont give up but we let all of them swim free to fight again.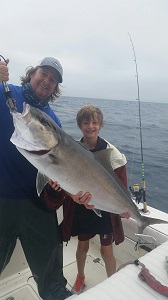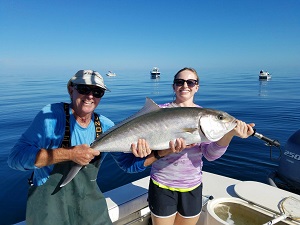 The gag grouper season ended on Dec. 31 but due to extremely warm weather they didnt seem to be where I usually caught them in Dec. Now that its getting cold they will come in closer to shore but season is closed to keep any till June 1.
January, Febuary usually is great sheepshead fishing and mangrove snapper. March will bring in the cobia and the red grouper and amberjack will continue to be good out 25 miles. I hate cold weather so I am taking January and Febuary off and have boat maintenance to do. Also getting these cataracs off my eyes. My dad would not get his cataracs removed as long as he could see his bobber go under while fishing. Well I cant see the bait flashing and dimpling like I use to so thats why I am going to get this done.
Spring will be here soon and March is a busy time due to spring break so let me know if you want to book a trip for that time period. Also tarpon season is May and June so dont wait too late. I look forward to seeing you. Capt. Tom sr.