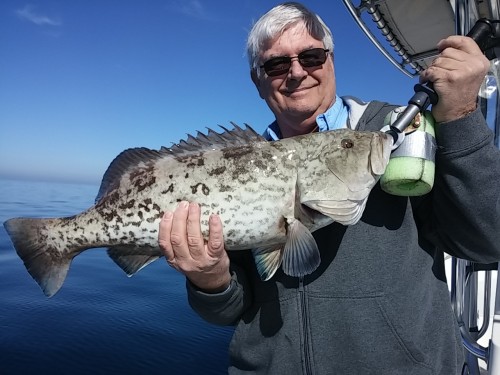 Fishing the past two months has been really good depending on the weather. Most trips were offshore as the best bite has been in the gulf.  We have had some good bay trips but in the winter the bigger fish move into shallower water.  We have been doing good on grouper, snapper and hogfish.  The hogfish are not only beautiful to look at they are one of the best eating fish in the gulf.  When you see them on a menu they probably were speared as that is how to get them usually.  This year however we have found a way to get them to bite and have caught some really nice ones.
The next couple of months should be about the same and the good tasting sheepshead will start biting really well.  We catch them offshore as well as in the bay.  We always use light tackle and all of these fish fight really good in cool water. One of the groupers in the pictures below was caught on a trout rod with 10 lb teat. That was a battle.
Be sure and book your spring trips soon as March is spring break and we will fill up fast.  If we don't respond in a day or two please call as we get busy and fail to see all the emails.  My number is 941-737-8806.  I look forward to seeing you this year.  Capt. Tom Sr.